Garage Parking Aid - Car Stop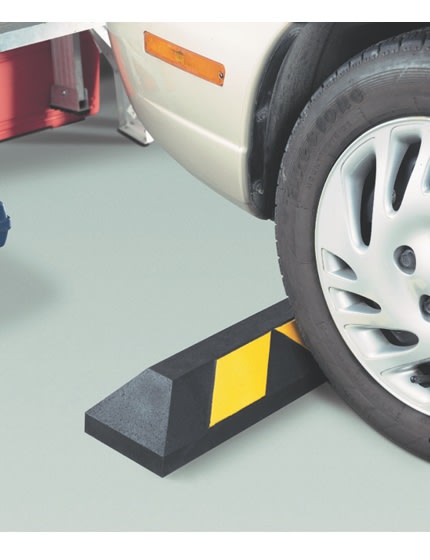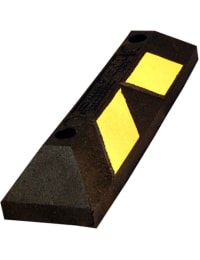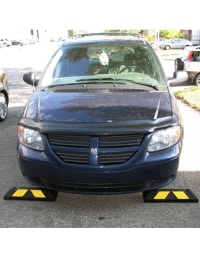 In Stock - Ships Immediately
Product Details
22" long x 6" wide x 4" tall, Approximately 10 lbs. each
No mounting hardware required - simply place the block in front of one front tire
The garage stop prevents damage to personal belongings and interior walls by helping drivers stay within a designated parking spot. This black and safety yellow wheel stop is particularly useful for homeowners who store equipment or valuables inside their garage as well as novice and teen drivers. Made from 100 percent recycled rubber tires. Reflective yellow stripes provide maximum visibility. Installs without mounting hardware.
Ships immediately.
Customer Satisfaction
"I got just what i ordered today. 12/5/2014. It really is fastest Shipping. I ordered it on Tuesday and got it on Friday. And i really Love my Garage Stop Parking Block!!!! It really works and holds my 2013 Mazda 3 in place. Now i can park with Confidence. And prevent the car from Damaging anything in the Garage. And putting holes in the wall. It's pretty Awesome." -
Phillip Blair
"Thanks so much for your fast delivery. I ordered the garage block on 11/14/2010 and got it yesterday (11/16/2010). Now I can pull the car in garage and not worry!" -
Arleen Mirto
"Very happy with garage bumpers." -
Jean Bates
"Perfect use in my garage. No more need to look for a mark on the garage floor, Just drive in until your wheel makes contact with the rubber curb." -
Dan Eck
"Arrived promptly, lining up both cars well in our not-very-roomy 2-car garage." -
B. Robinson
"Exactly as advertised. Fast shipping and a great price too. Also you are recycling. Instead of a tennis ball on a string I put a curb in the garage. Works out great." -
CL Scott
"Excellent, easy to order and delivered on time, garage bumper just what I was looking for and functional." -
George Fox
"I ordered my garage stop late in the day and was expecting the items to ship the next day or 2. I ordered these on a Thursday and so I was not expecting to see anything that day. To my surprise the items were shipped within 2 hours. I have bought online before and have never experienced such a quick response. The Traffic Safety Store truly knows customer service. I highly recommend them." -
Noel Clemons
"Item delivered on time. No need to secure the parking block to the garage using bolts or double sided tape: it is heavy enough to stop the 4Runner." -
Al Cantoria
"Hi: I am very happy, the traffic block worked out perfect. Thank you, Jim." -
Jim W.
"Product works well. Just what we needed in our newly rehabbed garage." -
JT Monahan
"Great product. Super service & delivery. The garage parking block works GREAT and is exactly what we were looking for." -
John Schenck
"It has been a real pleasure doing business with your company. I really appreciate everything you have done. I would and will recommend your web site and business to anyone interested in your products. Best customer service by any company I have purchased from on the internet. On all survey questions I give ***** stars. Thanks so much." -
Terry Collins
"It was great!! I have a big car and a small garage. I back in. I needed a "stop block" to keep me from hitting the stuff at the back of the garage. Very simple, very effective. No hardware required. Shipped quickly, arrived quickly... So simple... nice!" -
R Wraight
"Quick delivery. Fast update on my order status. I purchased two car stops (Part # PBRR2YN) They work great. Thank you" -
Nato523
"Just set them on garage floor and work like a charm. Great." -
davemelodya
"Fast and efficient. My order was processed and delivered to me on time. I had two of the stops in my garage already and needed two more. My two previous stops have held up great over the years." -
RCrolic